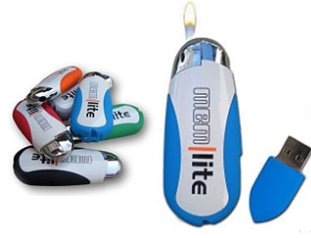 In a world where your cell phone can be a camera, mp3 player, portable video device, and access the web you most definitely need a lighter that can be used to secretly store your personal data. Combining two of my favorite things, information and fire (the true key to the modern world), the memlite is a hybrid lighter and USB flash drive that would even make Q himself jealous.
The memlite will eventually come in five colors (black, grey, blue, red and green) and soon will have a capacity of 4GB… more than enough room for all the viral videos a lighter could assist you in making. Unfortunately for now, however, this German creation is only available in orange or black and is limited to a capacity of 512 MB.
At a cost of EUR 29.90 (roughly $40) it may be cheaper to simply do as i have currently been doing and tape a Bic to a microdrive… but that is just a recipe for too many of the wrong kind of questions.
via EverythingUSB