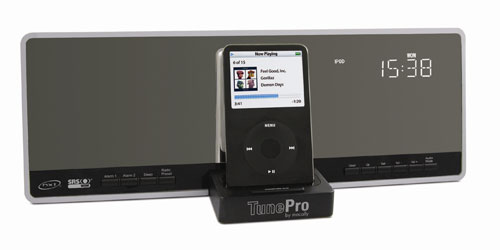 The dawn of a new day brings us yet another iPod speaker system. This time around the folks at Macally, a computer accessory company, are unveiling the TunePro flat panel speaker system for around $130.
The Macally TunePro makes use of NXT flat panel loudspeaker and SRS WOW technologies to create what it says is a full, rich sound with a small footprint for iPod owners. It has a nice looking design which charges an iPod while letting one enjoy it at the same time. Integrated into the TunePro is a digital clock with alarm features.
Other features of the TunePro include gradual alarm volume increase, three dimmer display levels, a AM/FM radio with presets and a 30-pin connector for docking iPods. Macally plans to add an iPhone version of the TunePro by the end of the year.
ipod speakers, Macally, Speakers, TunePro