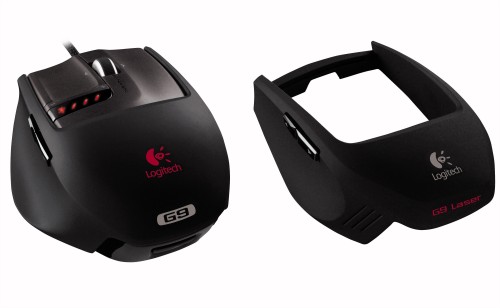 Logitech released the $99 G9 Laser Gaming mouse today as its latest addition to their G-series of gaming peripheral devices. The G9 has a number of features to improve both its usability and comfort for long gaming sessions with a dpi range from 200 to as high as 3200 and 1,000 reports per second through the wired USB connection.
For starters the G9 has interchangeable grips, one being a wider, softer grip for comfort and the other a smaller, "DryGrip" for precision movements with no fluff. To add to this customized size Logitech also lets you customize the weight to comply to the type of game your playing, your mousing surface and simply to get the best feel for you. In the bottom of the mouse is a spring loaded cartridge that allows up to 28 grams of additional varying weight, which can be changed easily and quickly.
Aside from the physical customizations available with the Logitech G9, it also offers customized profiles that travel with the mouse, not the computer. No drivers are necessary to keep five different profiles loaded and ready to use when plugging into any machine. The profiles let you configure keyboard macros, dpi settings and LED color settings which can be automatically detected or selected from a switch on the mouse.
And we certainly can't forget Logitech's MicroGear Precision Scroll Wheel that they started adding to their mice last year, allowing you to switch between click-to-click or fast, no-click scrolling. Logitech says they will have the G9 Laser Mouse on shelves in September.