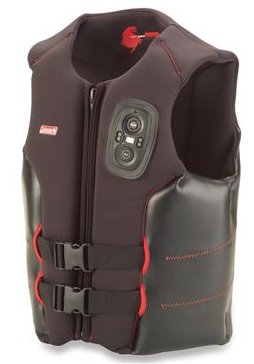 It's probably tough for anyone to hang onto a two way radio when your out skiing in a lake or accidentally falling off a boat at sea, but it sure would be handy to have one sometimes. This life vest from Hammacher Schlemmer comes with two, 2-way radios; one of them integrated into the vest.
The radios span 14 channels and cover a distance of 1.8 miles to allow the wearer of the life vest to communicate with the person on the other end, (who is hopefully not also in the water) without the worry of dropping the radio. They're water resistant up to 3 feet down and are powered by 3 AAA batteries.
The life vest itself is U.S. Coast Guard approved and is made from a 100% PVC interior covered by neoprene (the same stuff wetsuits are made of). The life vest along with both the integrated and non-integrated two way radios all go for $129.95.