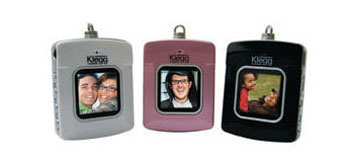 Klegg Electronics, another on the fringes electronics company trying to eek a living out of the iPod dominated portable audio player market, announced earlier this week an updated version of its Mini MP3 player. This model is available in three body colors for around $60.
The Klegg Mini MP3 player offers up 1GB of storage, which is enough to hold between 300 to 500 songs as well as lots of digital images. This player has a small color display on the front side and is itself a small device, measuring 1.8-inches x 1.5-inches x 0.6-inches. You also get a built-in FM radio with the ability to record FM broadcasts.
Files are copied over onto this player by dragging and dropping them so no real complicated software is required. That seems to be the main theme of the Klegg Mini – simplicity. That's always a winner with those who just want music to go and little else.