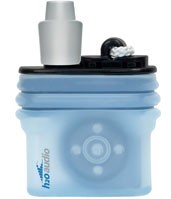 For about $250 you can get a modified 2nd generation iPod shuffle with the waterproofing built in but that doesn't help you if already have a Shuffle that you want to take in the pool.
For this situation you can hook yourself up with this iS2 waterproof case from H20 Audio. The case goes for $39.95 and will keep the Shuffle running at depths up to 10 feet.
The price isn't really too bad but in order for this case to actually keep the water out it has to be paired with a set of H2O Audio Waterproof Headphones which will run you another $39.95. The water tight case allows operation of the iPod through the case and also comes with a lightweight armband.
The iS2 is available for pre-order right now and will start shipping on August 25.
via OhGizmo