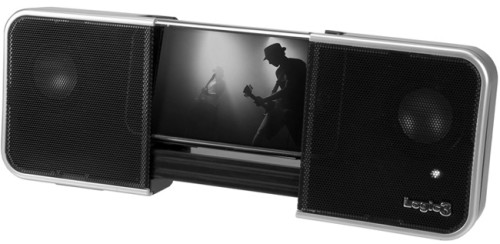 Logic3 is marked today as the first to launch a speaker dock made specifically for the iPhone, which not surprisingly has been named the i-Station Traveller for iPhone. The system consists of a couple 4-watt, 35mm neodymium driven speakers and a dock that can accommodate the iPhone either vertically or horizontally.
To help make the Traveller more travel friendly the speakers will actually slide together to enclose the docking area and make the whole works only 170mm wide. The device is also compatible with any iPod or any media player that has a standard 3.5mm headphone jack. We're thinking that the iPhone probably connects through the headphone jack as well.
The iPhone speaker dock is expected to be available soon from Logic3 retailing for around $60.
via Degadget