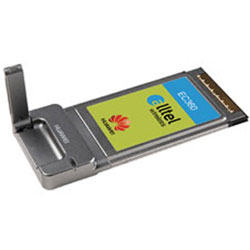 Alltel Wireless announced today it was the first North American wireless provider to offer PC data card products from Huawei, an overseas developer of telecommunications products. The Huawei EC360 card is now available for around $190.
The Huawei EC360 lets laptop owners go wireless broadband at download speeds up to 2.4 Mbps, and supports Windows 2000, Windows XP and Vista operating systems. The card has a hinged antenna and external antenna port to offer options for better signal strength. It slides into the PCMCIA slot of a notebook and supports EVDO.
It's worth noting for Alltel subscribers this card is available to them for free…though you have to purchase a $60 data plan with a two-year service agreement. I guess that really doesn't make it all that free now does it?