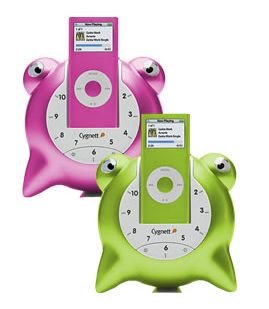 The Groovetoons alarm clock brings a light-hearted cartoon-ish look to a traditional style alarm clock while at the same time providing a modern dock matching your iPod Nano.
The alarm clock comes in 5 colors that match the color of the 2nd generation Nano (green, pink, blue, black and silver) and automatically provides an interface on the iPod for viewing the clock and setting the alarm when docked. The interface is even viewable at night with the Nano's backlit display.
It comes complete with a snooze button built into the clock and allows you to wake up to your favorite songs that are stored on your iPod. The device will also charge your iPod when docked and the speakers can be used to play your music at any time of the day.
The GrooveToons iPod alarm clock retails for just under $60 at easyishop and is compatible with the first and second generation iPods only.
Source:
ChipChick
alarm clock, Clocks, GrooveToons, iPod Nano