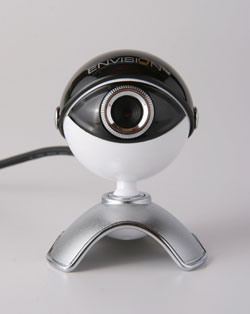 Web cams definitely seem to be a dime a dozen these days. Here's another one you can throw onto the pile – the new Envision Peripherals V-Cam, priced at around $50 and available now.
The Envision V-Cam is described as a state of the art Web cam for those on a budget. It can do 1.3-megapixel video capture and 4-megapixel digital image shots. It has a five-glass lens and comes with auto face detection and "smart tracking."
Envision added also to the V-Cam some useful special effects for video calls and compatibility with major instant messaging applications. We really don't see a lot here which makes this Web cam state of the art but it's cheap so what the hell.