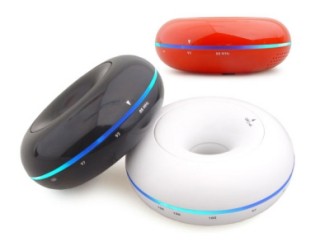 Some gadgets are cool for their technology, some are cool for their looks and some have both. In this case I don't know if it has either but it caught our eye nonetheless – probably just because we like donuts.
This Donut FM Radio has no ground breaking technology as it plays FM radio out of a mono-speaker'd plastic ring. It runs off of a single AA battery and has a wire antenna that pulls out of the battery case if needed. Operating the donut radio is simple. The inner ring turns to power the radio on and off and adjusts the volume causing a glowing blue ring to light up indicating the device is operational. The outer ring turns to tune in your station which always has one preset – whichever station you had it on last (provided you didn't move the ring).
The device has a 4.7 inch diameter, weighs a half of a pound and comes in colors of white, black or red. No info on price quite yet but we saw some older models last year for around $30.
via GeekAlerts
Donut FM radio, Donut radio, fm radio, radios