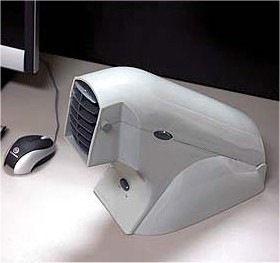 This 10.5-inch-tall device is made for those that feel the office temperature is just a little too warm for comfort. The desktop Air Conditioner works quietly and runs off of 2 D batteries or a 3V DC power adapter (that you must provide yourself).
The cooling mechanism is a little less high-tech than you might initially think and really comes down to the equivalent of placing some ice in front of a desk fan. Although the Desktop air conditioner has a condensation catch tray it has no mechanical condenser. The company packages a water bottle along with the cooling gadget that you are to fill with water and freeze. Once frozen you can place your cold water bottle in the air conditioner which passes air over it and onto you.
Personally I think you might get better results by just sitting on your frozen water bottle, but if you're out of options with your overheated workspace for $20 it might be worth a try.
air conditioner, battery powered, desktop air conditioner