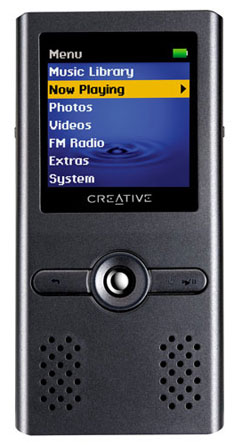 Creative has quietly brought to American shores a Zen MP3 player which has built-in speakers. The Zen Wav is on sale through Wal-Mart in 2GB and 4GB sizes.
The Creative Zen Wav, announced earlier this year, lets you play your standard MP3 and WMA music files as well as view AVI files and digital images on its 1.5-inch color display. The player gets up to 30 hours of playtime through headphones or 20 hours through its speakers before needing the battery recharged. You also get a FM radio to entertain you when really bored.
Other features of the Zen Wav include voice/line-in recording, world clock and e-book reading. This player all-in-all doesn't really seem that exciting so it's no big surprise Creative isn't even promoting it on its American Web site.
Creative Zen Wav (Wal-Mart) via Epizenter