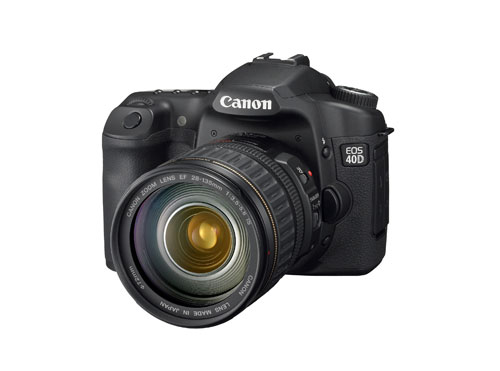 One of Canon's most anticipated announcements among its new products unveiled is the 10.1-megapixel EOS 40D Digital SLR. This successor to the 20D and 30D mid-range prosumer digital cameras is expected to be available this September for body-only at around $1,299 or a kit version with a EF 28-135mm f/3.5-5.6 IS USM zoom lens for $1,499.
The Canon EOS 40D offers up 6.5 frames per second of shooting speed, a new auto focus sensor and an enhanced CMOS imaging sensor. Built into the EOS 40D's body is a three-inch LCD screen with a raised brightness level and a 140-degree viewing angle. The body of this camera is made of a magnesium alloy which makes it more durable.
Other features include a 35-zone metering sensor and ISO speeds from ISO 100 to ISO 1600 in 1/3-stop increments. The list goes on well beyond this so you get the idea this camera is loaded and ready to do about whatever you need it to.