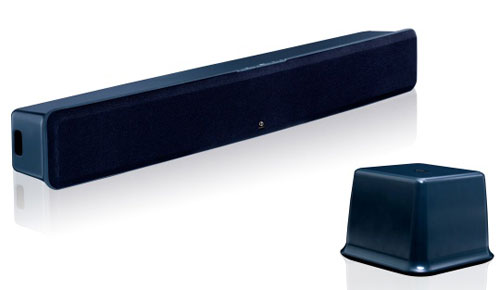 Boston Acoustics is targeting those who want simplicity in their television entertainment area with the unveiling of the Tvee Model Two. This new two piece speaker system is priced at around $400 and should be available in September.
The Boston Acoustics TVee Model Two consists of a slim soundbar placed above or below the television and a matching wireless woofer which can be placed anywhere in the room. The soundbar features four 2.5-inch mid bass drivers and two .5-inch dome tweeters, while the woofer offers a six-inch down firing bass driver. Total system output is put at over 100 watts.
No separate remote control is needed as the TVee Model Two learns an existing television remote to control volume and mute. This system seems to be a perfect fit for the person who doesn't want a full fledged home entertainment system or someone tight on space. It reminds us also of a similar Polk Audio device.
Boston Acoustics TVee Model Two Press Release via Crave