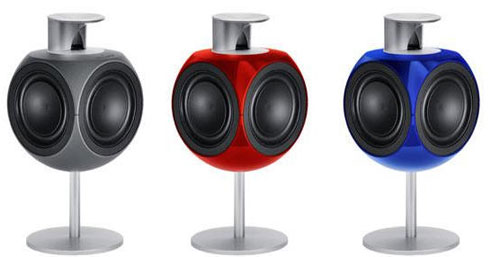 Bang & Olufsen sure knows how to turn out some artistic, high end electronics gear for your home entertainment pleasure. The company is now at it again with the nice and pricey BeoLab 3 speakers ($3,200).
The BeoLab 3 speakers are small and compact, according to Bang & Olufsen. Made out of solid aluminum and available in several colors these speakers put out 250 watts of sound and disperse sound in a 180-degree field. They can be placed on a table via a solid rubber base or placed on a floor stand for that modern art/electronics look.
What's also interesting to note with these speakers is these speakers put out very little heat, meaning you can place them in tighter quarters without worrying about them overheating. We do admit we like them even if they look extremely funky.
Bang & Olufsen BeoLab 3 via LaptopLogic