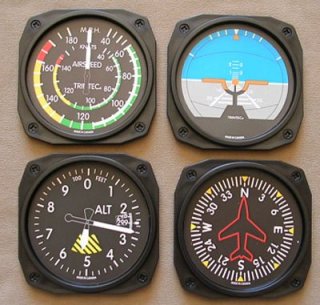 You finally got some nice furniture in your place and all of a sudden you find yourself concerned about rings on your table, but getting your friends to take you seriously when you ask them to use a coaster might prove a little difficult.
Bringing out these Airplane Instrument Coasters may solve your problem by providing a conversation piece that's practical, too. Heck, your friends might even use them. Or, they might write you off as gone over the edge with fancy furniture and geeky accessories. Either way you won't have rings on your table.
The set of four coasters come is styles that mimic an altimeter, airspeed indicator, compass and attitude indicator with non-slide rubber backs and measure about 3.5″ across. You can get yourself into this set of flying-fan coasters for $14.95.
Coasters via NerdApproved