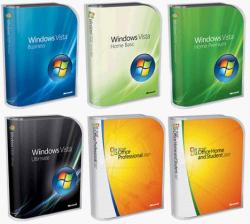 At the annual Microsoft fninancial analysts meeting in Redmond last Thursday Kevin Turner, Microsoft COO, stated that the company has shipped over 60 million copies of its new Vista operating system since its release. Since the Vista global launch at the end of January Microsoft says it had shipped 20 million copies in the first week and 40 million in the first 100 days.
"By our math, we eclipsed the entire installed base of Apple in the first five weeks that this product shipped," Turner said.
Microsoft had a bit of a rough start just getting Vista out the door, taking over 5 years to bring it to market releasing it to business users last November and then to the general public in January. Microsoft's Steve Ballmer stated about a month after the launch that sales expectations for the OS were possibly "overly optimistic" and the OS was plagued early on with issues such as security flaws, a lack of hardware drivers supporting the Vista OS and "shout hacking".
Turner went on to say that he expects Windows Vista to be operating on around 1 billion PC's within another year from now and sales of Vista and XP to increase around 10% over the next year.
A couple things to consider in this announcement is that 60 million copies shipped doesn't necessarily mean 60 million individual customers with the Vista OS, but if you include pirated copies 60 million users might be fairly accurate. Also, there are about 42 million computers covered under volume license agreements with Microsoft that this figure doesn't take into account.