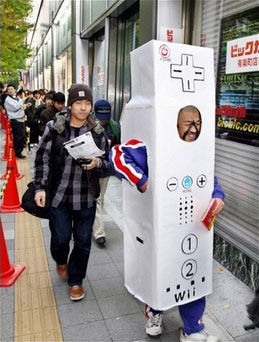 Not only is Nintendo's sales of the Wii game console staying ahead of the competition, but they are continuing to rise and pull further away from rival Sony's PlayStation 3.
Last month we reported that the Wii was outselling the PS3 in Japan at a ratio of 5 to 1 in May with 251,794 units. Reuters is now reporting that these numbers have risen and Nintendo sold 270,974 Wii game console units in the first 24 days of June in Japan. This, compared to the 41,628 units of the PS3 that Sony sold ups the ratio to that of 6 to 1 Wii's to PS3′s sold. Microsoft's Xbox 360, which is also a major competitor in the current generation gaming consoles, sold 17,616 consoles during the same period.
This trend of dominate consoles sales from Nintendo continues to enforce that Nintendo has found a truly impressive combination of price point and technology offerings with their new motion-sensitive game controllers and wacky games to go along with it. Once WiiWare games start hitting consumers we can't help but think that the console popularity will just continue to grow.
[Image Credit: FastHack.com]
game consoles, japan, Nintendo, Wii, Wii Sales