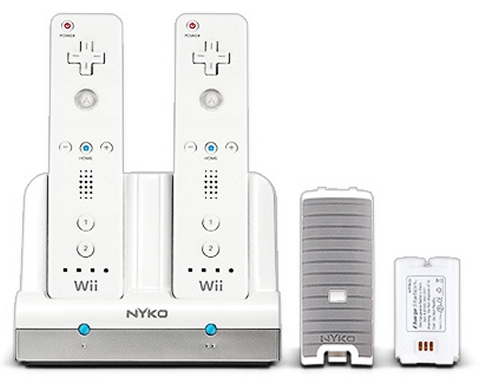 Nyko has a new charging accessory that can help prolong your game play with the Nintendo Wii game console. The Charge Station can simultaneously charge two Wii Remotes by simply resting them in the dual charging docks.
The package comes with two rechargeable NiMH batteries that provide up to 25 hours of continuous use, each. Each of the rechargeable batteries for the Wii Remote also have a rubberized coating as Nyko's way of helping players keep a better grip on their controllers.
Even though this charging station will charge up both batteries at the same time it takes a big eight hours for them to take on a full charge, which seems a little long to us. Of course if you do end up draining both of them after 25 hours of continuous Wii Sports action you're probably due for at least an eight hour break anyway. The Nyko Charge Station with both of the rubberized batteries retail for about $30, which sounds like a pretty good deal to us.
Source: Krunker