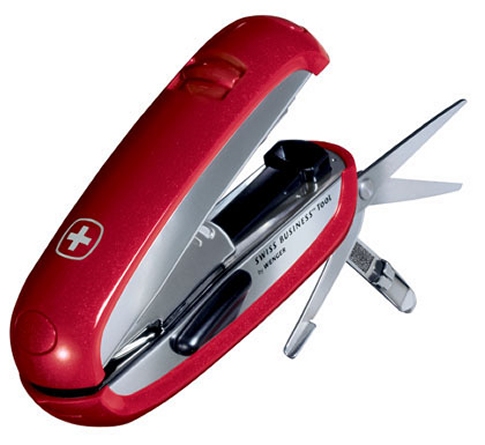 Most office settings may frown on bringing a Swiss Army knife into work, even if it does have a lot of handy tools on it that you may use in the office about once every 30-40 days. This doesn't necessarily mean that you have to go without a fine crafted Wenger tool at work though.
The company has recently come out with the Wenger Swiss Business Tool that combines a lot of the more common tools needed at your desk in a compact design with familiar levers you're used to seeing from the Wenger Swiss Army tools. The pictured business tool here contains a flat-clinch stapler, hole punch, staple remover, high performance scissors, optical gauge, nail file, and a nail cleaner, but no knife.
The Swiss Business Tool retails for $100, and for another $15 you can get a custom fit case. For $110 you can get this same office gadget that actually does have a knife included, of course how often do you really need a knife and a stapler in the same setting? This device looks to be much more practical for the desk jockey than a normal Swiss Army knife, plus I don't think Wenger's mammoth knife even has a stapler in it anyway.
Source: OhGizmo