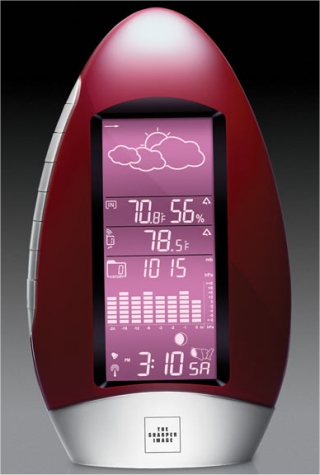 The Waterdrop Weather Station from Sharper Image acts as both an alarm clock to wake you with information on the time, weather and more. This probably could just as easily have been an egg or football weather station, but since it's reporting the weather I guess it makes sense that they refer to it's geometry as a drop of water.
When the alarm rings there's no need to fumble around trying to find the snooze button to get yourself 5 more minutes of shut-eye. By simply waving your hand within 3 inches of Waterdrop an infrared sensor will activate the snooze for you, helping to make your late scramble to get to work a little more likely. Once the snooze is activated it illuminates the large LCD for 5 seconds giving you a chance to see the time and a graphical forecast of the weather to come. No need to set the clock on this one either since it uses the the U.S. Atomic date and time.
The Waterdrop Weather Station also has all the weather reporting information you would expect. It measures the indoor and outdoor temperature in F or C with an included outdoor sensor that works from 246 feet, the humidity from 25% – 95%, 24 hour barometric pressure and the current phase of the moon. It will also show the maximum temperature and humidity and retails for $129.95.