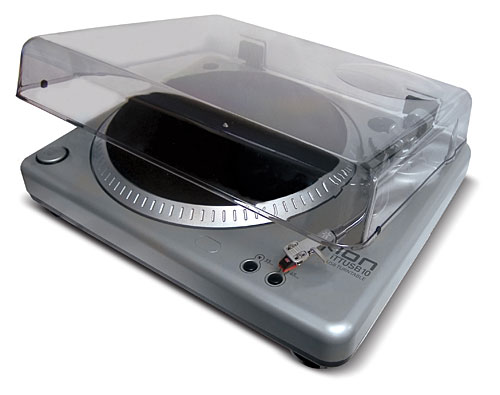 Ion Audio gets how important it is to back up your vinyl collection to a digital format. The company announced today two new USB turntables designed to help convert your LPs into MP3s.
The Ion Audio iTTUSB05 ($150) and iTTUSB10 ($250) turntables come with a USB port for single-cable connection to a Mac or PC and allow for playing albums while at the same time copying them. Both come with software for copying music off the vinyls, including a program for converting tracks directly to iTunes. Other features of the new USB turntables include dust covers to protect the record, stylus and slip mat; built-in pre-amps eliminating the need for an audio receiver with phono-in jack; integrated RCA cables; and 33 1/3, 45 and 78 RPM playback speeds.
The reason for the price jump between the two models is that the ITTUSB10 (pictured in this post) has a different look and additional mechanical features such as an S-shaped tone arm and tone arm lift lever. It also allows for easier switching between phono and line output.
Ion Audio ITTUSB05
Ion Audio ITTUSB10
Ion Audio, records, turntable, USB, vinyl