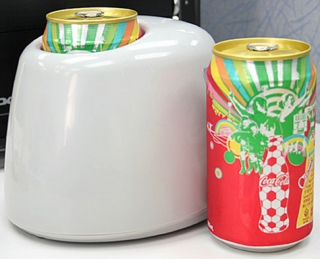 It appears that finding a good and efficient cooling mechanism for a single canned beverage at your desk is a little hard to come by. We've seen the little USB Mini Fridge and that little "cold plate", but neither can get anything real cold, real fast.
This USB Can Cooler and Warmer from Brando looks like a noble attempt but its unclear just how good of a job of warming or cooling it really does. It's completely USB powered which is nice and it can warm things up to what appears to be 65 degrees, which really isn't too warm, unless that means 65 degrees above the room temp. Same with the cooling which says it can drop the temp of your can up to 20 degrees below the room temperature, so if its 85 in your room again we're looking at a 65 degree beverage?
The device runs $32 from Brando, fits a standard 12 ounce can and looks to be sized not much larger than two of them.