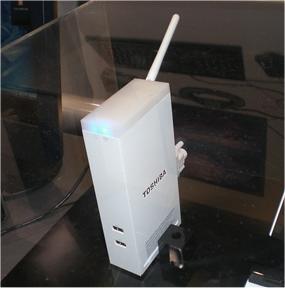 Toshiba announced last week the release of a wireless docking station that utilizes ultra wide band (UWB) technology, marking one of the first consumer-based uses employing the wireless connectivity. The UWB connection between the docking station and the notebook allows peripherals including an external monitor to have faster connection speeds than traditionally available through Bluetooh or WiFi.
Unfortunately the distance does not increase with the speed, though. The UWB docking station has a 3 foot maximum range but really, how far are you going to need to be from your peripherals and monitor anyway? Another potential caveat for some is that the UWB connection uses a radio frequency that's not yet allowed in all countries.
The Toshiba UWB docking station has 4 USB ports, an audio connection, an Ethernet port and of course a monitor port. It will run you about $500 which is a hefty price to pay for not having to snap your notebook into a standard docking station, and currently the laptops that use the device start at over $3k and go up from there. As for me, I think I'll be roughing it a little bit longer with my old-school manually connecting dock.