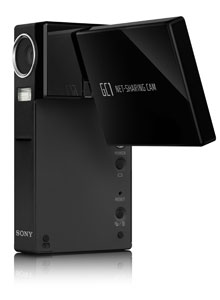 Sony's hoping to hit up the wallets of social networkers and video bloggers everywhere with its unveiling today of a Web-focused, portable camcorder. The new Sony Net-sharing Cam is priced at around $200 and should be available in September.
The Sony Net-sharing Cam, which shoots video in the MPEG-4 recording format, can record about five hours of video onto a 2GB Memory Stick Pro Duo when default settings on the camcorder are enabled. It also can snap five-megapixel digital camera images and measures 1-3/16″ by 4-1/8″ by 2-1/4″.
What is perhaps most cool about Sony's new camcorder is that you can select videos or photos you want to upload. You can than use the pre-loaded software to pre-format videos for popular Web-sharing sites and then directly upload them through a PC to these Web sites via direct publishing. You also get a 2.4-inch color LCD screen and around 90 minutes of rechargeable battery time.
Sony Net-sharing Cam Press Release