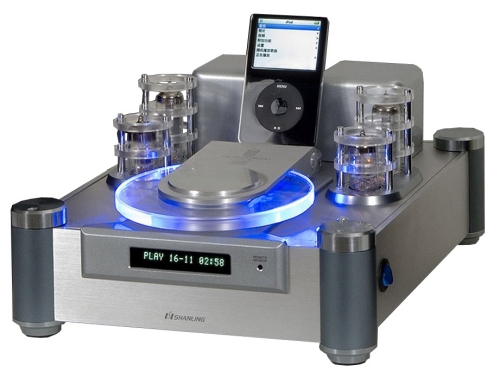 Here's an iPod dock that took the design path a little less traveled and it appears the results have turned out nicely. The Shanling MC-30 iPod Music Center combines a CD player, AM/FM tuner, iPod dock and a tube power amp into a compact and sharp looking brushed aluminum frame.
The music center runs by an included remote control but also has volume and input selector knobs concealed in the top of the front leg columns. A blue LED light shows off the disc player and an LCD panel on the front displays current settings. The stereo includes quality components from the likes of Philips and Burr-Brown to put out 3 watts per channel from a tube power amplifier.
If you're looking for a home stereo that centers on your iPod you'll probably be the only one on the block with one of these, but individuality by means of this iPod music center comes at a price of just a few dollars under $1k.
Catalog Page via Gizmodo
iPod docks, iPod Music Center, MC-30, Shanling