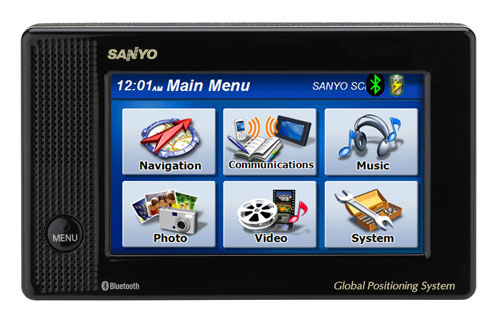 Sanyo today dropped two new portable navigation systems into the U.S. market. The more interesting looking of these two is the feature-laden Sanyo Easy Street NVM-4070.
The Sanyo Easy Street NVM-4070, to start with, has a nice looking four-inch widescreen display which is touch-sensitive. You get text-to-speech, turn by turn navigation (including street names announced), pre-installed maps which include 1.8 million points of interest spread across all 50 states, Puerto Rico and Canada and the ability to get real time traffic updates that are graphically displayed as icons on the map.
What's also useful about the NVM-4070, priced at around $500, is full Bluetooth support (including dialing and taking calls) with compatible mobile phones, MP3/WMA playback, MPEG-4 video playback and a built-in FM transmitter to broadcast music over your car's radio. We really don't think Sanyo has stuffed enough into this device though – what about the ability to read your thoughts and pre-order your food when you pull into a fast food drive-through?
Sanyo Easy Street NVM-4070 Press Release