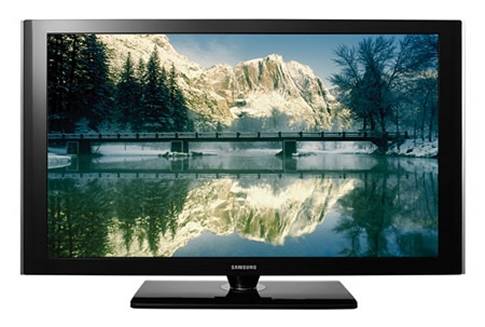 Samsung has a new line of plasma HDTVs out that do away with all the cables (aside from the power cord) and allow you to mount these up on your wall without any other component or cable clutter around it.
The 94 series televisions come with a receiver that will transfer the high-def video and audio signals wirelessly up to 200 feet via 802.11n direct to the TV in full 1080p resolution. The A/V connections on the remote receiver/transmitter box include 3 HDMI's, 1 USB 2.0, 2 component connections, 2 video connections, 1 S-Video and a headphone jack. All these components can be connected and sitting in a cabinet in another room or in a media closet keeping your mounted plasma TV looking clean and simple.
What might be real cool is if you could have one receiver that could send the signal to multiple TV's. Or, I wonder if you had two of these if they would interfere with each other; my guess is they would. Well, fortunately for me I won't have to deal with that problem because just one of the 50-inch 94 Series wireless plasma's will run $3,599 with a 58-inch coming in at $5,299.
Samsung expects to have these out in September of this year, but if you like the TV and don't care about the wireless you can get the 84 Series versions that have all the same features sans the wireless, which run $2,999 for the 50 and $4,699 for the 58. They don't specify if the WiFi receiver could be added on later but it would be worth asking if you want to pick one up before September.