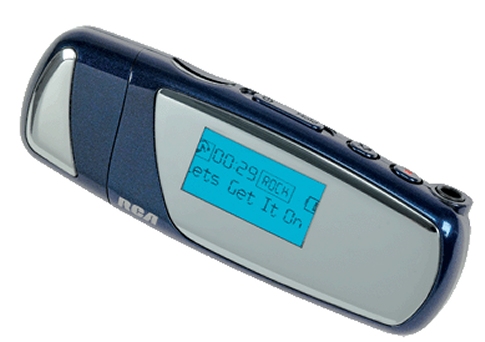 RCA has a new line of MP3 players called the Pearl series that come in 256MB, 1GB or 2GB capacities and feature a different configuration than many of the latest MP3 players.
The Pearl MP3 player has a built-in USB connection which allows it to connect directly to your computer sans any cables, similar to a USB flash drive. All three players have a Micro SD card slot which will allow you to expand the memory to multiple Gigs even if you purchased the smallest capacity player. And like the retro-style direct USB connection, this player is not rechargeable and runs off of 1 AAA battery.
The RCA Pearl also has some more of the standard features found in portable MP3 players like direct voice recording, encoding directly to MP3, plays mp3, WMA, WMDRM-9 and Audible files, has a small LCD display can give up to 15 hours of playback on one battery. That LCD display even has 7 different backlight colors to choose from and give your player a slightly customized look.
The RCA Pearl players have the thrifty in mind and come with the first AAA battery with the 2GB model retailing for $48. The 1GB (pictured here) is expected to go for $39.
Product Page via Crave
MP3 player PMP, Pearl, RCA Pearl