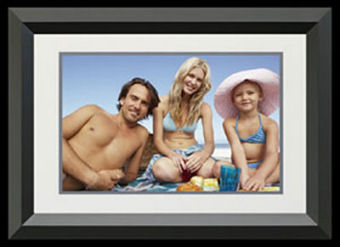 How wide is wide enough when it comes to a digital picture frame? What if that frame was also wireless? Those are the two main ideas behind the newly announced PhotoVu PV1965w ($1,199).
The PhotoVu PV1965w sports a 19-inch widescreen display capable of showing photos in a 16:10 format. The digital photo frame automatically resizes images sent to it wirelessly or through an attached USB device automatically to 1440 x 900. The PV1965w supports 802.11b wireless technology, though it can be upgraded to 802.11g as well. A recessed accessory pocket lets one connect portable storage devices such as USB flash drives.
You also get built-in Ethernet and support for photo sharing Web sites with the PhotoVu PV1965w. It comes in a lightweight aluminum enclosure and weighs around 18 pounds. Usage is marked for business and home, so either way you'll get plenty of viewable area to wirelessly stream your photos of your Uncle Wilbur's 83rd birthday.