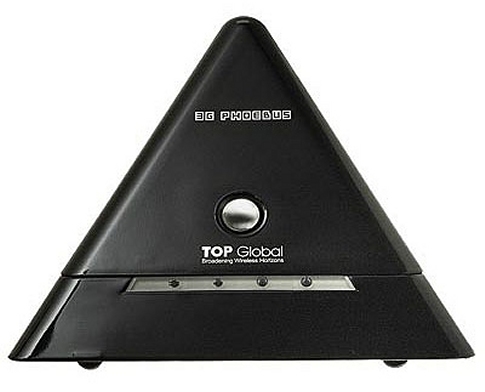 Tired of having those bland little rectangle-shaped networking components? Would you like to try and add a little style to the clutter of cables and boxes in your office? Top Global thought you might and took a little Egyptian inspiration in making the 3G Phoebus WiFi router.
While this is not ground-breaking technology the package is certainly something different. The Phoebus is shaped like a pyramid and works as a WiFi router to share your 3G card (EV-DO, UMTS, HSDPA and EDGE/GPRS) with multiple computers or anyone else within range. You're not going to get the speed you would find from a WiFi router connected to broadband but if you're in an area without much in the way of internet connections (but you can get your world phone signal) the 3G Phoebus will serve you well.
For a $289 price tag from X-tremeGeek the WiFi router will accept 802.11b and 802.11g connections or you can connect through an Ethernet port to get your connection. The 3G Phoebus even has a built-in firewall.
via Technabob