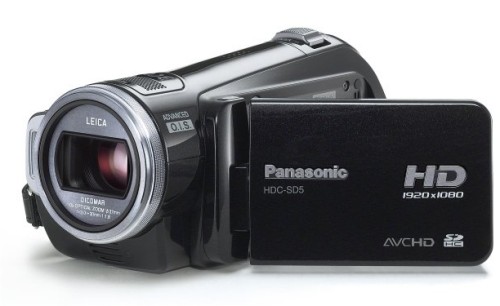 Panasonic is answering the call for HD home videos with a couple of new hi-def camcorders, one of which being the new HDC-SD5. The HD5 uses Panasonic's original 3CCD HD-camcorder that records video at a 1920×1080 resolution along with an advanced O.I.S. system to help keep your shots from having the shakes, even when you do. The HDC-SD5 also makes use of a lens from the well-known Leica Camera using 12 lens elements in eight groups with a low-dispersion glass to help keep crisp, defined colors in the video.
Media is recorded onto SD/SDHC flash memory cards and contributes to this camcorder being what Panasonic calls the worlds smallest 3CCD full-HD camcorder to date. An 8GB SDHC card used with the SD5 camcorder can hold as much as 180 minutes of HD video and allow fast transfer from the card to your computers hard drive or burning to a DVD.
Panasonic says the HDC-SD5 will be available in September listing at $999.95.
camcorder, HD-Camcorder, HDC-SD5, Panasonic