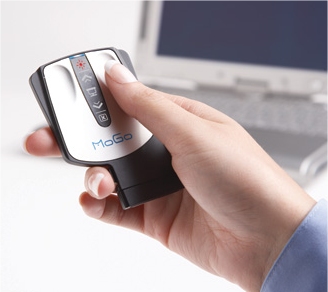 Remember that cool little Mogo Mouse we showed you last October that fit in your PC card slot to stow and charge? Well Mogo has new version called the Mogo Mouse X54 that stows just as nicely as its older sibling and comes with some equally cool features.
The mouse connects to your computer through Bluetooth and the back end of it fits into an ExpressCard slot for charging. The real feature of the X54 however is the devices dual function as a regular mouse and as a multimedia remote.
By flipping a switch on the bottom you can choose between the two modes. While in "mouse mode" you have the right, left and center buttons, a scroll pad and a "back" button. Switching it into "multimedia mode" uses the same buttons for controlling music or video playback. Functions include moving the tracks forward and back, volume, a play/pause toggle and mute.
The Mogo Mouse X54 comes in two configurations, the X54 for media control and the X54 Pro that has a "Presenter Mode" instead of the "multimedia mode" to control things like PowerPoint slides and also has a laser pointer built-in. Both versions will be available in August priced at $79.99.
Mogo Mouse via ShinyShiny