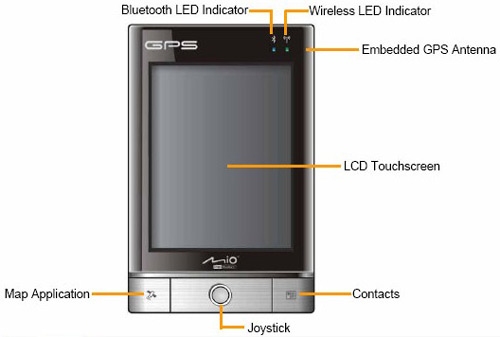 Navigadget found some scant information about two new GPS devices from Mio, the P360 and P560, most likely to replace the current P350 and P550 models with a sleek design and trendy touchscreen.
It looks like mobile phones like the iPhone aren't the only ones taking advantage of new touchscreen technology. The new GPS device from Mio looks to be a PDA running Windows Mobile 6 with GPS capabilities and software. There is a joystick and a couple buttons, one for Contacts and the other to launch the map application, but other than that it appears that all other interaction would need to be done through the touchscreen on the P360 and P560 models.
They both come with WiFi and Bluetooth connectivity, and SD/MMC expansion slot for memory and connects through a USB connection to your computer to synchronize data. The new devices also have a headphone jack and a microphone which implies some type of recording capability along with most likely audible turn by turn directions and music playback.
No info on price, what will be different between the two models or timeline, but this will be one to watch for.
via Navigadget