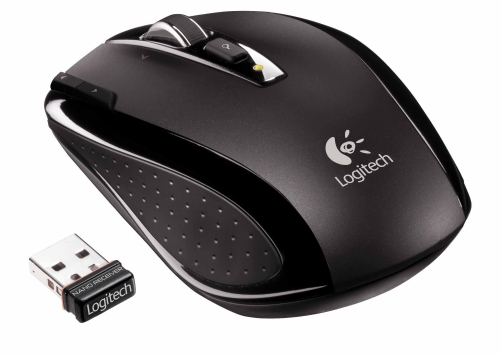 The Logitech VX Nano mouse is the latest cordless mouse from Logitech targeting notebook users. The Nano part of the name refers does not refer to the actual mouse but to the little USB receiver. Logitech is calling it the "plug and forget" mouse since the receiver plugs into your USB port and only sticks out 8mm, keeping it almost flush with the notebook in many cases. Most USB receivers protrude out quite a bit more requiring you to unplug them when you put your notebook away, but this one could potentially be left plugged in all the time without worry of it breaking off.
Aside from the nice low-profile receiver, the VX Nano also has that cool precision scroll wheel we saw on the MX Revolution from Logitech last year. The precision scroll wheel has two modes letting you scroll super-fast or at a slower click-to-click mode. Pressing on the scroll wheel itself changes the modes. It also has some nice browser navigation features like forward and back navigation buttons and a One-Touch search.
The Logitech VX Nano runs on two AAA batteries and while it's still a standard sized mouse, it has a lower profile over-all to help fit into small spaces in your notebook case. Logitech expects to have this mouse on shelves in late August retailing for $69.99.