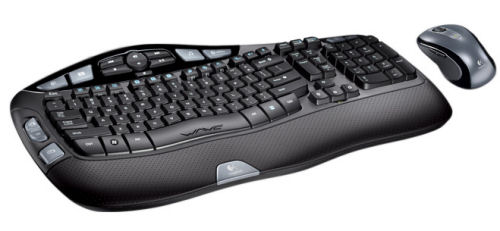 The new Wave keyboard from Logitech has your complete typing comfort in mind with curves that are designed to nicely fit your hands without any odd-shaped or spread-apart keys that cause you to re-learn to type. The wave design even goes all the way down to the actual keys, giving them each a slight contour for your fingertips.
The total typing comfort doesn't stop there, though. The Wave keyboard also has a cushioned palm rest and the height is adjustable to three different positions. Should you choose to go with the whole Wave desktop set instead of just the keyboard you'll also get a ambidextrous and precise laser mouse with standard buttons and rubberized grips that will run for up to 6 months on one set of batteries (the keyboard goes for 15 months without a battery change).
The Wave Desktop set is ready for Windows Vista with a Flip 3D button on the mouse scroll wheel and buttons on the keyboard for Zoom, Photo Gallery, and Gadgets. The keyboard also has some convenient dedicated multimedia keys and programmable function keys to make all your shortcuts to your favorite applications.
You can get the Wave keyboard ($49.99) or the whole Cordless Desktop Wave system ($89.99) when Logitech releases them in late August.