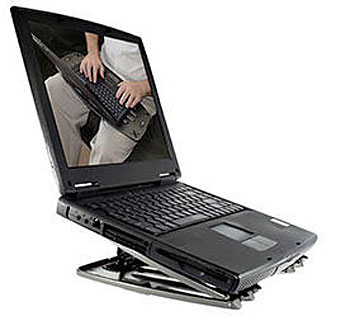 How often is it you cramp up while working on your laptop all day? There are quite a few laptop stands out there to help combat this issue and one of the better looking ones we've seen come along is the new LapWorks Futura Laptop Stand.
The LapWorks Futura Laptop Stand sports an oval-shaped burst and comes initially in a gun metal gray color. Other colors will be available in the coming months. This laptop stand functionally is geared for providing an ergonomic workspace. It folds into a wedge shape which offers five typing angles for more comfortable keyboard use. It also elevates the screen to provide a better viewing angle.
Another smart touch of the LapWorks Futura Laptop Stand is improved laptop cooling through features like open ventilation slots. The price of this laptop stand is pretty decent – $30 – and you can order directly from the manufacturer. It sure beats putting your laptop on top of a cardboard box while you work.