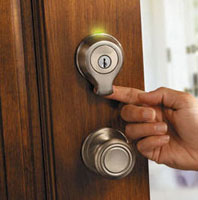 If you like biometric USB drives and the like for the ultimate in individualized security you'll be interested to know this technology is also available for the doors of your home. Kwikset is making available for purchase shortly a biometric-based door lock solution known as SmartScan.
SmartScan works by scanning the sub-dermal part of your finger to unlock its deadbolt. Assuming no one hacks off your finger (in which case you have bigger problems) you should be able to enjoy keyless entry each time you come home. In case your finger is hacked off though there's also back up key usage to gain entry.
Nice touches like a light indicator to let you know who has access and a high end deadbolt and cylinder make it all the more likely Mr. Stalker isn't at your home. You can of course always have the BigDog patrol your home as well.
[SmartScan via CrunchGear]