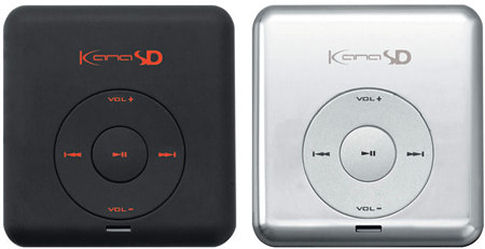 These little MP3 players from Greenhouse Japan have a very familiar, iPod Shuffle-like look and feel to them with dimensions only slightly larger and a price tag that's slightly smaller.
The Kansa SD MP3 player is about 2.2 inches at it's widest point compared to the 1.62 inch width of the Shuffle. It has no display and has a similar circle-shaped navigation control on the front to run play, pause, volume and to go forward and back in tracks.
The player's price tag is only $18 which is a great price for an MP3 player of this size but the catch is that it comes with no internal memory. In order to load and save any files you will need to get your own SD/SDHC card (up to 8GB) to keep all your media. This might be perceived as kind of a pain since you have to buy the card separately, but this can also be nice since you can control just how much capacity you want to have and you can take multiple SD cards with you. The device also can connect to your computer via a USB cable and act as an SD card reader as well.
The Kana SD player is available from Greenhouse in Japan, sold in only the white and black colors shown here.
via NewLaunches