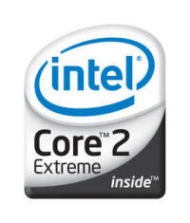 Intel has announced the first laptop CPU for the companies Extreme Edition of processors called the Core 2 Extreme X7800. The X7800 is a 2.6GHz processor with 4MB of L2 cache and an 800MHz front-side bus which all makes for great news to gamers who would like to get desktop-like gaming performance out of a mobile computer. In addition, this new high-end mobile chip will have nothing to stop you from overclocking it, at your own risk of course.
Aside from just upping the processing power Intel has also added some cool energy saving features for the time it's not in heavy use, which include a couple things called "Enhanced Deep Sleep", and a "low frequency mode". These features are designed to conserve electricity when the computer is not being used heavily or is in an idle state. Also, the gamers weren't the only ones in Intel kept in mind when thinking of who could benefit from some increased speed as they also added a feature called "Advanced Media Boost" to improve the processing performance for editing video, music, and photos.
You'll start seeing some laptops sporting the new Core 2 Extreme X7800 processor in a couple weeks, and if you don't recognize it by name you most likely will b the price since the new processor alone is priced at $851.