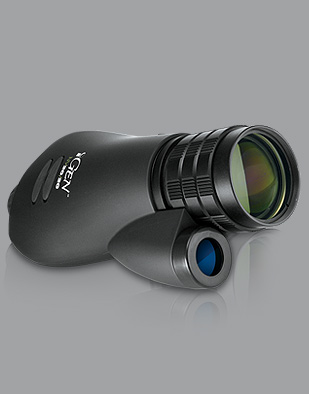 You may not have a good reason to want to own a pair of night vision goggles/binoculars but has that stopped you from ever wanting to own them anyway? If you don't have a Sony camcorder with the night vision feature then iGen's NV20/20 Night Vision Viewer is the solution to your shadowy situation. The company has come up with the first night vision device that can be slotted to the end of any camcorder so you can start taking home movies in the dead of night with just a flick of a button (to shine the IR light source.)
You can set the NV20/20 to take anywhere from 2 to 30 frames-per-second. The 2.6x glass lens gives you a nice 70-foot field of viewing for any wide shots that you need to take. It's also got a feature called Unique Infrared Intelligence that will automatically adjust the power the device needs to draw from the 4 AA batteries it runs on depending on how dark it is where you're at. It also comes with a tripod mount and a padded carry case too so you don't bang it up with all the discs and other camera stuff you're lugging around with you.
The NV20/20 will set you back around $699.95 but is that too high a price to pay for all the nights of practical jokes that you can now pull on your unsuspecting family members and friends?