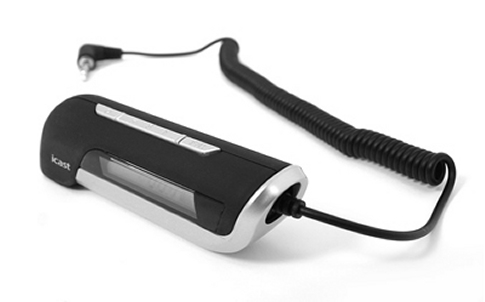 FM transmitters for portable music players and pretty commonplace anymore, and not too often does one have features to make it stand out like the iCast AutoScan FM Trasmitter.
The iCast has that ever-so-common iPod compatible name prefix to link it to the popular player from Apple, but really it can work with just about any media player that has a standard headphone jack. It runs on one AAA battery or a cigarette lighter port, and will transmit the music to an FM station of your choosing, but here is where the unique feature comes in. The iCast will scan the different frequencies and find the clearest open one in your area to broadcast in, in order to avoid interference. It can also save up to 4 selected stations.
The iCast AutoScan also has a power saving feature, so if you shut off your music player it will sense no sound coming through and after just under a minute it will shut itself off. This FM transmitter is going to be available on July 16th retailing for about $60.
via SlashGear