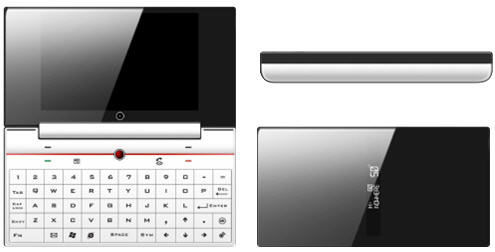 It turns out that the veil of mystery surrounding the HTC Omni Communicator had lifted a bit with the publication of some renders and specs on this upcoming piece of hardware now due out in October.
While nothing about the unit's price was gleaned we do have its dimensions (130 mm x 81 mm x 16 mm), and know that it supports WiFi, Bluetooth and USB connectivity, has a 4" WVGA 800×480 screen, internal 256 ROM / 1280 RAM with microSD memory card slot, can handle GPS/A-GPS, is UMTS/HSDPA compatible and runs off of Windows Mobile 6.0 OS.
Oh yeah, it's also got VGA and TV outputs somewhere on it. We very much dig that red ball floating at the center-top of the QWERTY keypad, it has a very HAL-9000 look to it. This baby is still new enough that it doesn't even have an official HTC product designation to it yet.
via T3