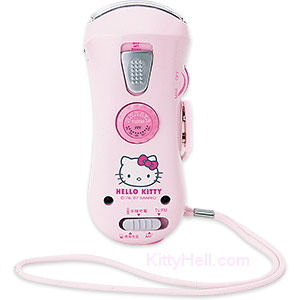 How cruel the irony of being in an emergency situation only to be saved by a Hello Kitty gadget. For Hello Kitty fans it probably couldn't be any better, but many of the rest of us would probably rather take our chances.
This Hello Kitty electronic emergency kit contains a number of features that might actually help you out of a jam. With an apparent internal battery the device has an adapter to power your cell phone, LED flashlight, AM/FM radio, a wind-up hazard siren and of course a compass. It also has a connection on the side where you can plug in a 9-volt battery to power it up.
I can just picture the headlines now: "Man survives disaster – saved by Hello Kitty".
Emergency Gadgets, emergency kit, Hello Kitty