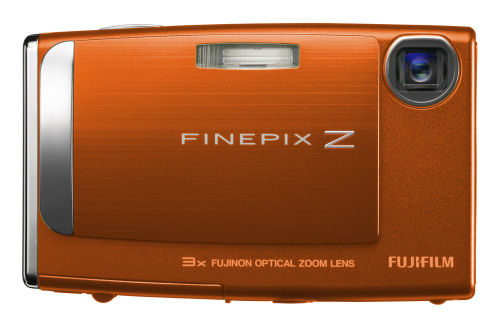 The 7.2 megapixel FinePix Z10fd from Fujifilm combines technology, a thin frame and some new colors to make what they are calling a stylish and sophisticated point and shoot digital camera.
This upgrade to the Fujifilm Z5fd comes in five loud colors of Wave Blue, Wasabi Green, Hot Pink, Sunset Orange, and Midnight Black and is slim enough to take with you just about anywhere. It has 3x optical zoom, a 2.5″ LCD on the back and a 54MB internal "reserve tank" to give you a few extra pictures when you memory card is full. Speaking of memory cards, this Z10fd will take SD/SDHC media cards in the same slot as the xD cards, so now you can take photos onto a media card that will actually work in something else you own.
The camera also features automatic face detection of up to 10 faces, automtic red eye removal and the same "blogging tool" that they had in the Z5fd, except that now they offer two picture sizes, 640×480 or 320×240. If you're near any other IrSimple devices you can also wirelessly "beam" your photos between the them to further ease the task of sharing.
FinePix Z10fd will hit stores in late September retailing for $199.95.
camera, digital camera, FinePix, Fujufilm