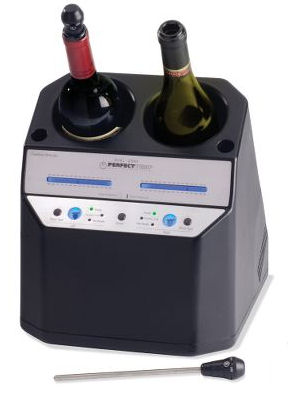 There are plenty of devices that are made to store wine with the correct temperature and humidity, but the recommended storage temp and the recommended drinking temp are not always the same for many wines.
This chiller from Hammacher Schlemmer can chill two bottles of wine at the same time, to two separate temperatures. It works by uncorking the wine and inserting a wireless temperature probe/stopper into the bottle. This way the chiller will cool to get the actual wine temperature correct, and not the chamber that the wine is in.
The dual wine bottle chiller has some pre-programmed temperatures for common wines or it can be set manually, and LED lights on the front show when the wine comes into the optimum range. This chiller is priced at $130.
via UberReview