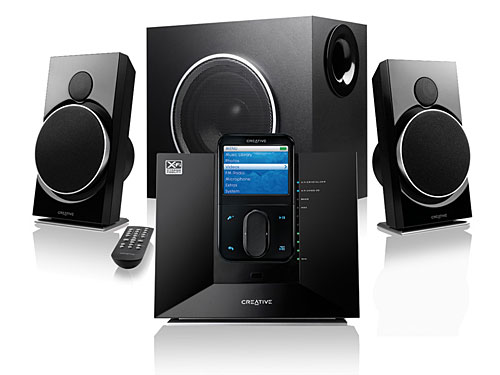 It looks as if Creative has finally brought one of its nicer looking speaker systems to American shores. The Creative X-Fi Sound System Z600 is priced at around $300.
The Creative X-Fi Sound System Z600 is targeted towards owners of Creative's Zen Vision:M portable media player. A dock for the player comes as part of the package and is capable of charging the PMP as it plays. Also part of the package are two two-way satellite speakers, each with a large 3.5″ driver and soft dome tweeter, and a 130-watt subwoofer.
Technology built into the Z600 improves digital audio sound and also provides virtual surround sound. An included IR wireless remote also allows for control of functions of both player and speaker system. This looks like a great package – the only problem is, how many people actually own a Zen Vision:M?
Creative, Home Theater