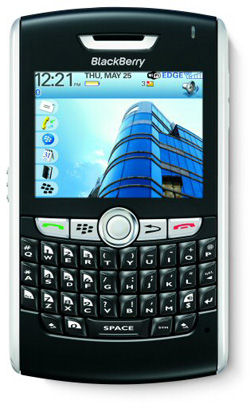 Mobile Wi-Fi fans, here is your BlackBerry. Research In Motion (RIM) has now officially launched that new dual-mode smartphone we've all been waiting for. The Blackberry 8820 sports the desirable broad connectivity of working on global cellular networks (quad-band GSM/GPRS and EDGE) as well as 802.11a/b/g Wi-Fi networks and it even has GPS built-in.
"The BlackBerry 8820 is an extraordinary business phone for people who really care about mobile communications and productivity. It features all the renowned power and usability of the BlackBerry platform with executive class styling and unprecedented connectivity features, including cellular, Wi-Fi and built-in GPS," said Mike Lazaridis, RIM President and Co-CEO in the RIM press release.
The 8820 is RIM's thinnest smartphone yet with a full QWERY keyboard, 320 x 240 display and it supports memory expansion through microSD / microSDHC. The Wi-Fi capabilities enable data transfer through the device wirelessly with no carrier data transfer fees, and if your concerned about the security of your wireless Wi-Fi transfers the 8820 supports WEP, WPA, WPA2, and Cisco Compatible Extensions.
The Wi-Fi BlackBerry also has all the applications and functionality you would normally get from RIM such as network and and email services, application support and some multimedia-centric features. No doubt RIM is trying to get the same hold on the retail market as they do on business by adding a multimedia player and supporting software that allows playing music, full-screen videos and viewing pictures, and also supports Bluetooth stereo.
RIM is launching the BlackBerry 8820 at different wireless carriers around the world starting in the next couple weeks. AT&T will be the carrier in the U.S. with plans to launch yet later this summer.
You can see more at the Blackberry 8820 micro-site.