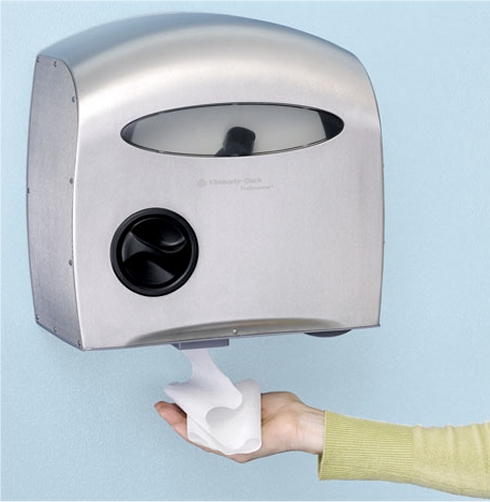 Kimberly-Clark claims they are "crossing the final touchless restroom frontier" with their brand new electronic toilet paper dispenser. This is a real product announced today which we were surprised to see at first but after thinking about it, it seems like an obvious thing someone should have come up with a long time ago.
The automatic toilet paper dispenser has a surprising number of features as well. Through controlling the amount of dispensed toilet paper electronically Kimberly-Clark feels they can cut down overall tissue use by up to 20%. The dispensing sizes are configured by the owner of the device and can be set in length settings of short (16″), medium (20″) and long (24″). I would suppose this setting would depend on general demographics of those that frequent the restroom?
The device also has LED indicator lights to let the janitorial staff know when the paper or the batteries are running low. Should a battery go completely dead, users of the automatic dispenser can manually turning a knob to dispense, probably at their own personally desired proportions.